Border ranchers in for the long haul
Chastity Laskey in Arivaca, Ariz.
Baling hay. Driving cattle. Checking the herd. It's all in a day's work on Arizona ranchland.
For ranchers along the Arizona-Sonora border, they've had to add to that list numerous activities that have little to do with raising cattle. They include everything from mending fences cut by migrants and border patrol agents, to calling on Customs and Border Patrol agents to help lost migrants.
Ranchers who own land that stops at the international border with Mexico, as well as those who live ten miles north of the boundary, said they see a lot of foot traffic from migrants heading north.
Dan Bell's ranch, called ZZ Cattle Corporation, is right on the border. The former president of the Arizona Cattlemen's Association, said he's concerned about the intentions of people who travel on his property.
You don't know if it's someone who's coming to better their life, or it's someone who's already committed a crime in the U.S.
Bell, and other ranchers like to mention that 20 percent of those who cross the border have criminal records, but there is no reliable statistic or study that confirms this.
Another problem that ranchers said that they have had to face is fires intentionally being set on their property by unknown sources and people.
Bell, said in 2011, he saw an increase of fires set that CBP found to be so-called "warning fires."
According to border authorities, migrants sometimes light fires as diversions, warning signals to others that there are authorities in the area. Sometimes fires are started to warm migrants traveling through the desert in the winter months.
Supporting a wall
While they may or may not have voted for President-elect Donald Trump, many border ranchers are in favor of building a wall where their ranches butt up against the international boundary.
Most of the Arizona-Sonora border has been walled off, but in some of the most rugged and remote areas of the border, where many ranches are located, there is no fence.
Another border rancher, Jim Chilton, who's been quite vocal about problems that border ranchers face, said there needs to be more security along the border. Approximately 25 miles from Nogales, the border wall ends and transforms into a four strand cattle fence, with some vehicle barriers.
On his front porch, Chilton keeps a collection of shoes worn by migrants that are specifically designed not to leave tracks in the desert. Warning signs written in English are also on the porch. One asks, "Is there life after death? Trespass, and find out."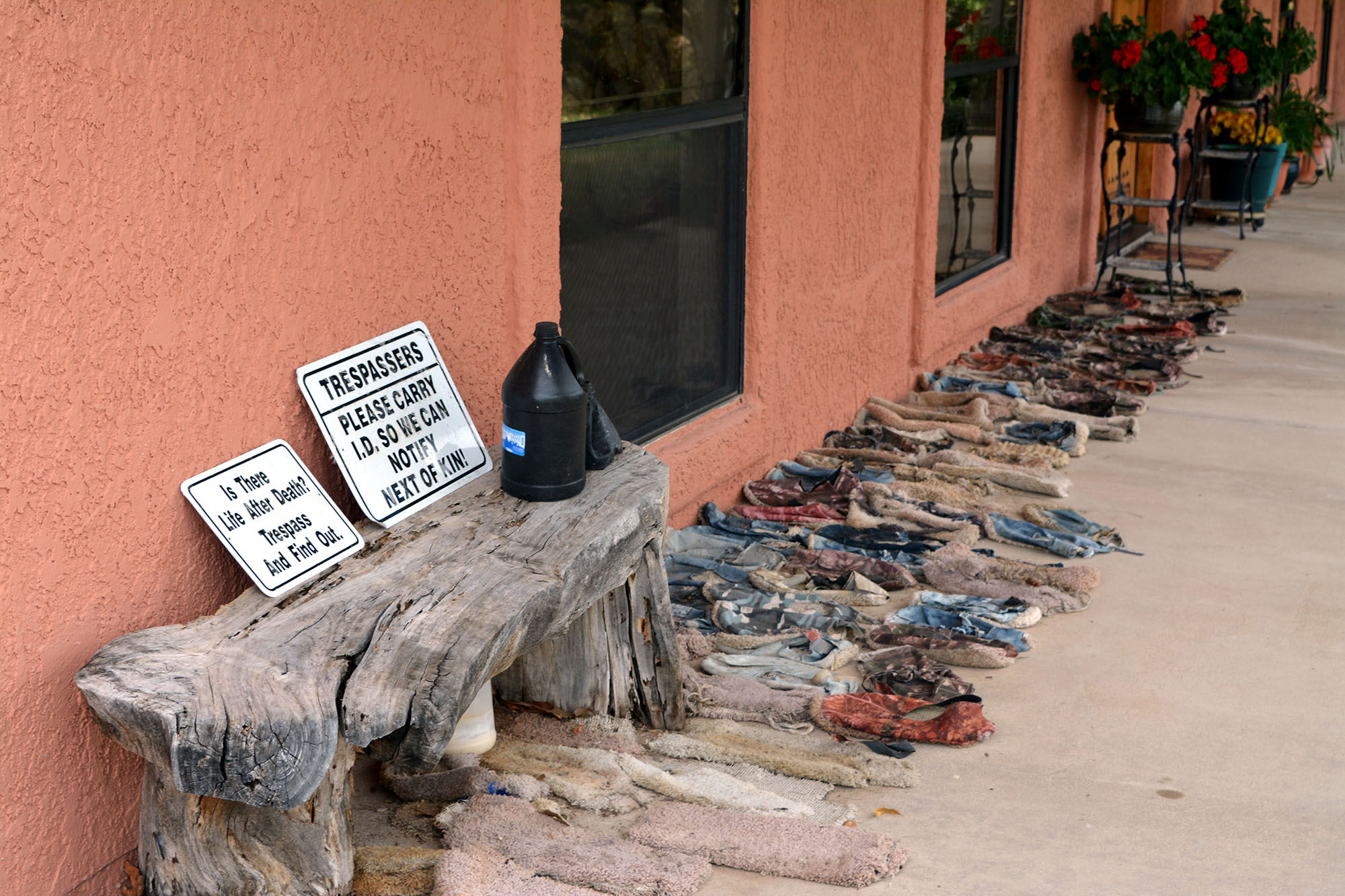 Rancher Jim Chilton's front porch warns trespassers. Photo by Chastity Laskey
Chilton said he wants the government to create a border road that would run all along the international line, which would connect to the main border checkpoints. Eventually he said he wants a wall, and he's even offered to rent his land, so that Customs and Border Patrol could build quarters for its agents.
The Rowleys aren't giving up
Not far from the Bell's ranch, about 25 miles north of the Arizona-Sonora line, cattle graze on the Jon and Peggy Rowley's 30,000 acre ranch. The Rowley family has cared for the land and the cattle on it since 1951, but things have changed over the past five decades.
Peggy Rowley said she no longer goes out on the ranch by herself to do tasks that she never would have thought twice about doing ten years ago. "It's really scary when you drive up and there's a whole group of them sleeping under a tree and you scare them and they scare you."
Trash left by migrants can also be a problem for the environment as well as the cattle. Rowley said she recently encountered a calf who had an aluminum can wrapped around its ankle, just above its hoof. This is not the first time. And, when this happens, it can cause injury, leading to vet visits, and money lost.
"Laws are laws, borders are borders, they need to design a plan that keeps our country safe and helps immigrants who wish to come to this country to better themselves and make us a better nation," said Rowley.
Still, she's somewhat sympathetic to most migrants' plight. "Some people ask for help and just want water," Rowley said. On terrain where it's not unusual for temperatures to hit well over 100 degrees, Rowley said, "Others just quit and ask for border patrol, and then there are some who demand to use our phones or ask where Phoenix is."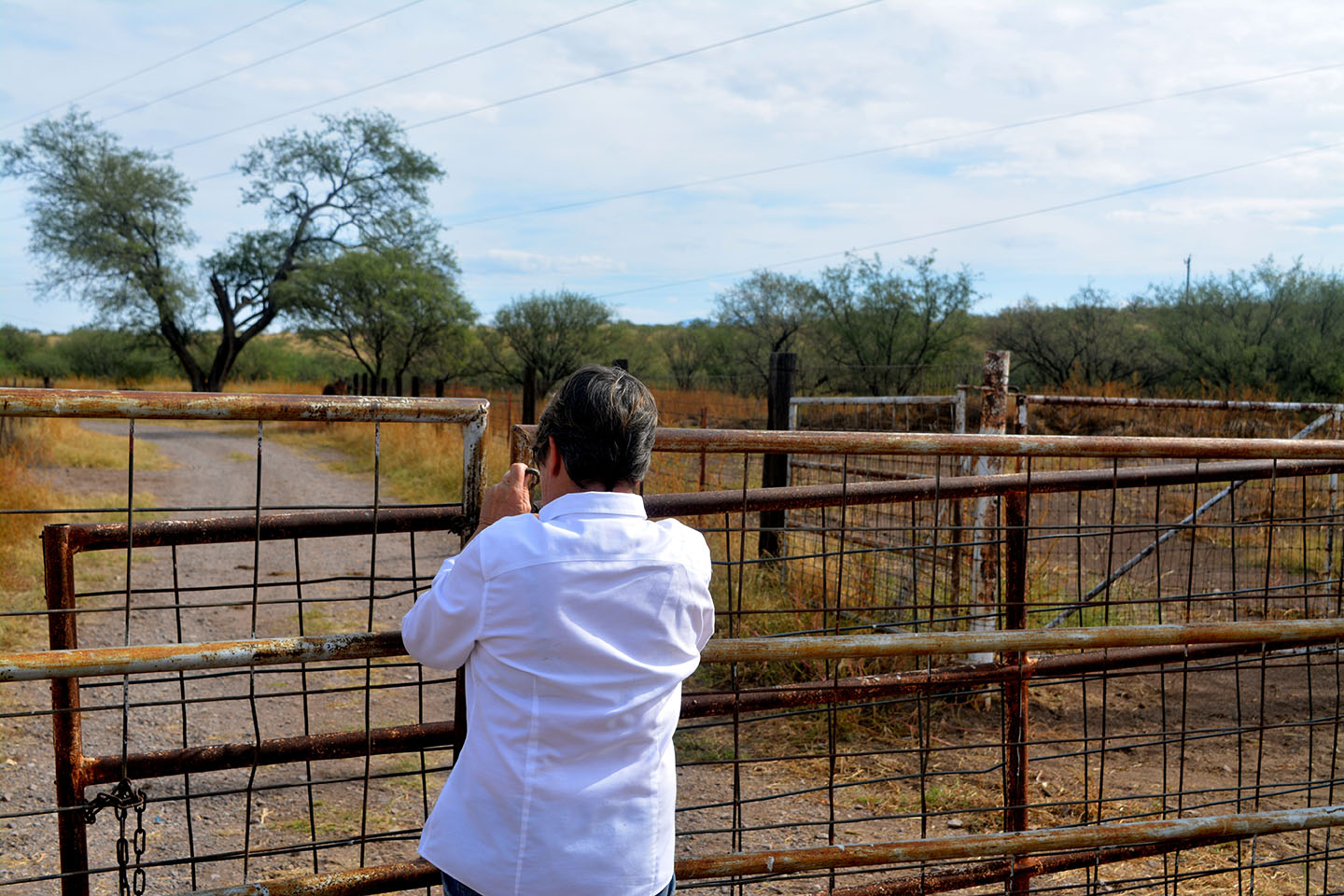 Peggy Rowley closes a gate on the family's ranch in Arivaca. Photo by Chastity Laskey
The Chiltons and others will continue to work the land
Many ranchers along the border are multi-generational and have been around for more than 50 years, a tradition they don't foresee giving up anytime soon.
The Chilton family began ranching before Arizona was a state, in 1885, when Jim Chilton's ancestors drove cattle from Texas to Arizona.
Jim Chilton, whose ranch is on the border, says he wants a wall between his ranch and Sonora,  Mexico. Photo by Chastity Laskey
Many ranchers didn't expect that they would have to deal with some of the problems they are having to confront, but most aren't planning to leave. And, if they did want to move, it might pose yet another challenge, because land values in the area have dropped.
I didn't know it would be a real horrible issue. I didn't know people would be dying on my ranch. I didn't know that 260 people would die between 1999-2016. It's a horrible humanitarian issue and my ranch now is worth a third of what it was when I bought it. Why? Because of the international boundary issues, who would buy into this problem.
Although estimates by the Pew Research Center show that undocumented immigration in Arizona has gone down, border ranchers said they are still struggling with some of the issues related to migrants crossing on their land.
"We get frustrated that we face these issues, but you can complain about it and still have to face the issues or you can work with them to make things a little bit easier," Bell said. "That's what we've done with border patrol to see how we can minimize the affects on us."
"We're not in the drug enforcement business, but you hate to see that going through your property," Rowley said, who routinely works with border patrol agents to resolve conflicts.
In the meantime, Rowley said they've put a lot of time, effort, energy and years into improving their herds, and they aren't going anywhere.
"We were here first before the drug problem, and once it's in your blood, I could never leave and like go live in Tucson.You just can't give it up, it's your life, it's what you do, it's what you become good at," Rowley said.