Growing a farmer's market in Nogales
By Erik Kolsrud in Nogales, Ariz.
Many vendors at farmer's markets sell as a hobby, perhaps as a way to make a little extra money from their gardens or crafts. Not Maria Elena Mendel. Necessity drives her to set up her stand of soaps and jewelry at the Nogales Mercado Farmer's Market.
"I do not get discouraged if I don't sell," Mendel said. "The most important thing for the customers to know is that we are there every Friday."
Having survived three years, Nogales' open air market has had a rough time taking off. Given that the area surrounding the City of Nogales, Ariz., is considered a "food desert" by the U.S. States Department of Agriculture, one might assume that this would be an ideal place to bring in and sell local produce and handmade goods, but that hasn't been the case. The USDA defines a food desert as a place where access to fresh fruits and vegetables and whole foods is scarce.
There are several obstacles that stand in the way of growing the Nogales Mercado.
There's the weigh station effect. Billions of pounds of produce come through Nogales from Mexico, but the produce doesn't stay here. The Nogales port of entry is one of the busiest in terms of produce entering the United States. According to the Fresh Produce Association of the Americas, between 2015-2016, 6.3 billion pounds of produce came through the port, but it was shipped off to other parts of the country.
Produce that didn't transport well is often donated to Nogales food banks, where it is then distributed to members of the community. In other words, why should someone buy at a farmer's market, when they can get produce for free?
Nogales resident, Mary Darling explained, "Why should I go to a farmer's market and buy peppers for a dollar a bag, when I can get a box for nothing and share with my neighbors?"
Still vendors congregate in a parking lot next to the train tracks at Morley Avenue and Court Street, setting up tents and selling their wares from 3 p.m. to 6 p.m., every Friday, but Darling said that's a little late in the day for many residents.
"By the time the Mercado is there and up and running, people are ready to go home," Darling said. "It's a long day for everyone up here."
A lack of transportation is another problem, according to Darcy Dixon, the Santa Cruz county extension director for the University of Arizona cooperative extension office. "Transportation is a huge issue here," Dixon said. "Not everyone has cars."
There are private bus lines that takes people from both sides of the border to local grocery stores such as Walmart and Food City, but the buses don't stop at the farmer's market.
For Mercado organizer Santos Yescas, the market is more than a place to buy local produce and crafts. He sees the venture as a way to build and develop the community.
"People need to be aware that the best way to help [the community] is to invest in the community, " Yescas said. "For every dollar they spend here, 43 cents is going to stay local. If they spend at a big store, only 13 cents will stay here."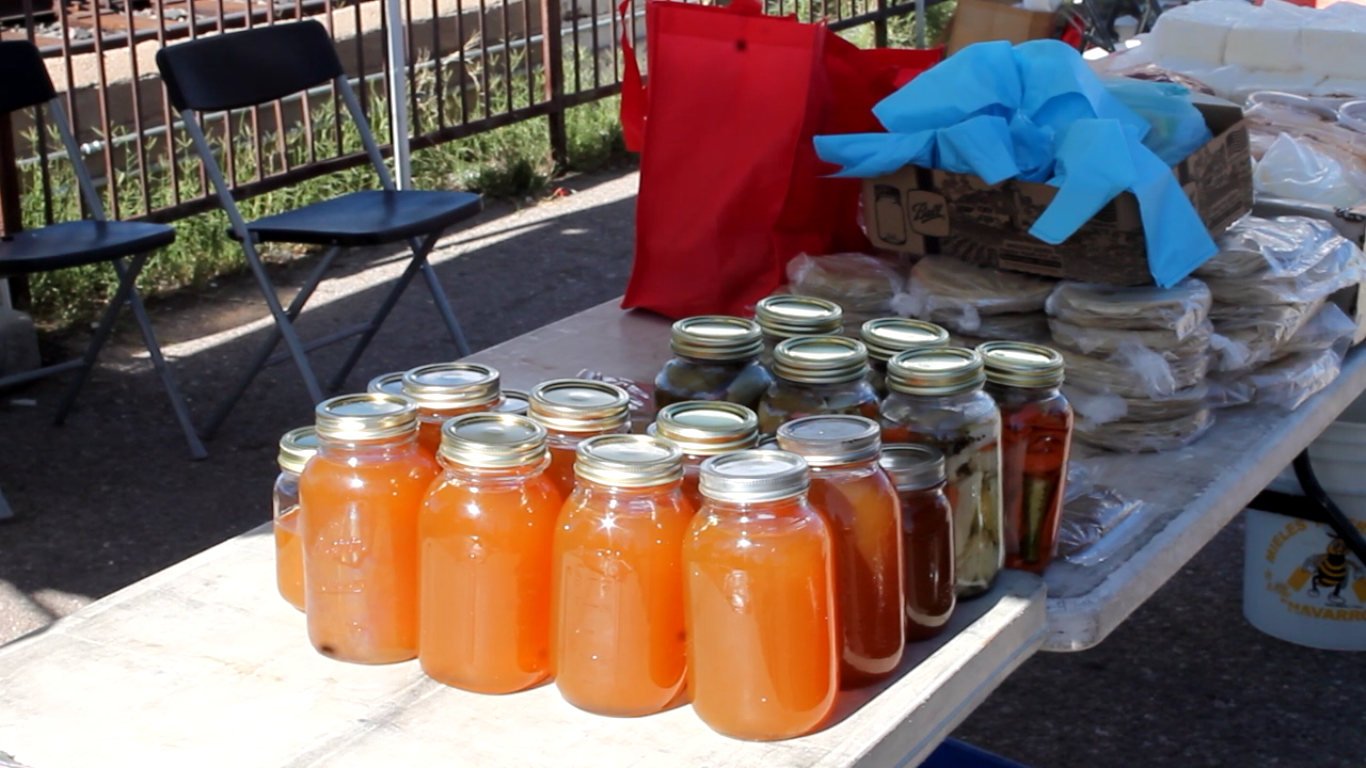 Products available run the gamut from honey and tamales to handmade crosses and purses. All are grown or made by locals. Photo by Erik Kolsrud
Elsewhere, farmer's markets have been the crest of an organic wave that has swept the nation. According to the USDA, there has been a 33% increase in the number of U.S. farmer's markets since 2000. The Department of Agriculture attributes this increase to the interest in eating local, interacting with growers, and buying products free from the perceived danger of GMOs. This is evident in cities as large as Tucson, and in communities as small as Tubac. But not in Nogales.
For Darling, who has been gardening in her backyard for years, it might be a question of waiting a little longer. "It will take a long time, that's all," Darling said, who said she might consider getting involved with the Mercado at some point, "Just not yet."
In the meantime, Mendel remains undaunted as she returns to the market every Friday, hoping to do more than break even.
"I'm not discouraged about it, and I don't see it as having too many problems, personally," Mendel said. "Somebody else may tell you different, but me, I look at it in a positive way."